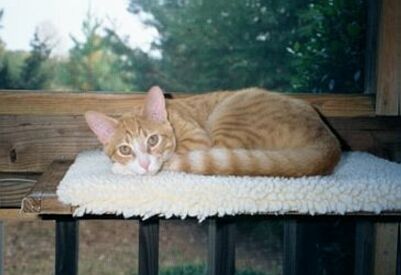 "Hi, there. This is me when I was six months old."
Tiger Rag (Hold That Tiger)

Thanks to my "Aunt Millie" Judd, for Bouncing Tigger.
He just loves to bounce to "Tiger Rag" but says it should be "Tigger Rag."





My Story
A neighbor child named me Tiger and it does seem a good name for me since I not only look like a tiger but sometimes act like one, too. But my basic personality is very, very sweet and loving. I am very friendly, playful, and love to be loved. My mommy pets and kisses me all the time and I love it. I also purr real loud most of the time. Oh, yes, and smart! I am extremely smart. You can see it in my eyes and by the way I play with my toys. I really love toys. They are all over the house and I play with them all the time. My favorite is what I call "mousey-mouse" ... very small toy mice with long tails that I can carry in my mouth or bat around all over the house. What I'm really trying to say is that I'm just the "cat's meow." I hope you enjoy my page and especially my photo gallery. My mother will soon be adding more photos of me.
My Photo Gallery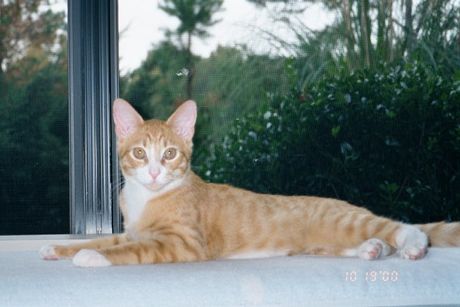 "Ain't I purr-ty?" (Note the "M" monogram
on my head for my last name McKinley.)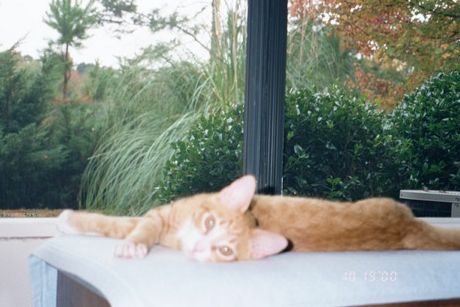 "I can be very sultry, too."

"Shhhh ... there's a bird
out there at the feeder."

"Am I beautiful or what?"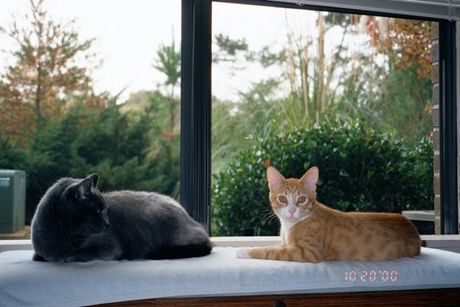 "My big sister, Angel, and me."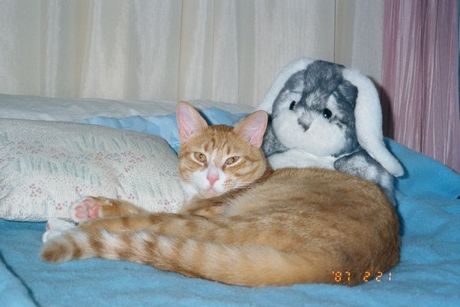 "I've had such a long day."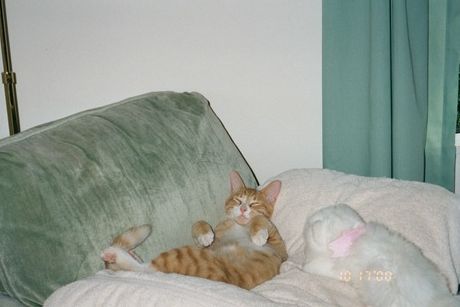 "Nite, nite."
Meet Samson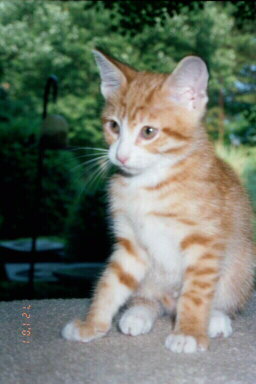 Tiger's newly-adopted brother
Click here for Samson's Photo Gallery

And don't forget to return for the rest of Tiger's page!
My Favorite Music
The wolf also shall dwell with the lamb, and the leopard
shall lie down with the kid; and the calf and
the young lion and the fatling together;
and a little child shall lead them.
~Isaiah 11:6-7 ~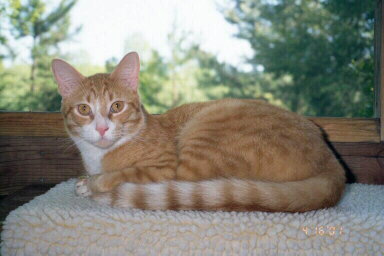 I am very proud to be the official mascot for the Tiger Survivors ... a group of Korean War veterans and family members. My mother's brother was a Tiger Survivor and died in a Korean War prison camp. Visit this page dedicated to him.

Site Navigation
Rose's Web Pages
Inspirational pages
Dedication
In memory of my brother
Friendship
Especially for my friends
Inspiration
The most beautiful flower
Compassion
In memory of Mother Teresa
Prayer
Ice cream for the soul
Salvation
Steps to peace with God
In His Service
My personal testimony
The Touch Of The Master's Hand
Beautiful poetry and music
in memory of my father
When Tomorrow Starts Without Me
In memory of my granddaughter
Old and New Testaments
In chronological order
Understanding ALS
"Lou Gehrig's Disease"
Banners
Lots of wonderful pages to visit

Please visit my sister Angel's page. I only knew her for a short time
before she went to heaven where I will see her again some day.
Meow, meow, meow! (Translation: Praise the Lord!)


And here is a link to my mother's music pages.