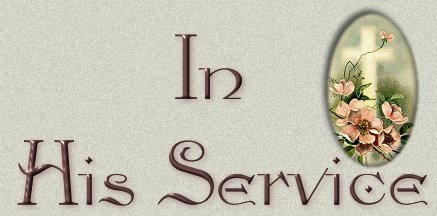 The title of this page has real meaning to me. By God's amazing grace, I have been in His service for the past 53 years. When I was 12 years old, I accepted Jesus as my Savior and His sweet Holy Spirit has lived in my heart all these years. That doesn't mean that I have never had any problems since then. It means that He has always been there to love and guide me throughout my life.

Sometimes I think I know better than He does but when I go my own way, I always end up in some kind of trouble or misery. But, Jesus never fails! He is perfect in every way. He is God, the Father ... Jesus, the Son of God ... and the incredible Holy Spirit who lives in every Christian's heart and will never leave nor forsake him.
"For He hath said, "I will never leave thee, nor forsake thee."
So, that we may boldly say, "The Lord is my helper,
and I will not fear what man shall do unto me."
(Hebrews 13:5b-6 KJV)
I have always loved sacred music ... even before I really knew the Lord. We had an old upright piano in our home which my father and mother played. And, the only kind of music they ever played was sacred or gospel music. Every time I heard them play, I would come running to be right there beside them. So, at the age of four or five, I was playing hymns with one finger. And, every Sunday, I looked forward to going to church where I learned about Jesus and sang the songs that I loved. One of my most favorite hymns, then and now, is:
AMAZING GRACE

Stanzas 1-4 by John Newton
Stanza 5 by John P. Rees
Amazing grace! How sweet the sound
That saved a wretch like me!
I once was lost but now am found,
Was blind but now I see.
'Twas grace that taught my heart to fear,
And grace my fears relieved;
How precious did that grace appear
The hour I first believed.
The Lord has promised good to me,
His word my hope secures;
He will my shield and portion be
As long as life endures.
Thru many dangers, toils, and snares,
I have already come;
'Tis grace hath brought me safe thus far,
And grace will lead me home.
When we've been there ten thousand years,
Bright shining as the sun,
We've no less days to sing God's praise
Than when we'd first begun.
One thing I know, that, whereas I was blind, now I see.
(John 9:25 KJV)

My mother died when I was seven years old. We were a very poor family, living on a farm in the small town of Lithonia, Georgia. I was the youngest of seven children and missed my mother dearly. My sister, Nita, only 13 at the time, became "mother" to my nine-year-old brother, Alfred, and me. The older siblings had already left home for marriage or military service. Then, when I was in the fifth grade, the three of us went to Tallulah Falls School , a boarding school in the North Georgia mountains.

My high school years were at another boarding school in the North Georgia mountains, Rabun Gap Nacoochee School (RGNS). It was there that I received a music scholarship. What a blessing! At every free moment, I could be found at the piano, practicing my lessons, and always ending up playing the hymns that I loved. (By then, I was playing with ten fingers.)

It was also at RGNS that I accepted the Lord Jesus Christ into my heart. And, it was only then that the pain of losing my mother began to subside. I now realized that I had a Heavenly Father who loved and cared for me and would never leave nor forsake me. And, just knowing that my mother was with Him gave me great comfort. It was as if when I prayed, not only the Lord heard my prayers ... my mother did, too. That may not be scripturally sound but it helped a broken-hearted little girl to cope with the loss of her mother.

I still play the piano every day. But, now I have a beautiful grand piano ... a precious gift from the Lord. Sometimes I play classical or popular music but I always end up playing the same old sacred and gospel hymns that I learned as a child.

Through all these years, I have served the Lord in different ways ... as Church or Sunday School pianist ... choir member ... weekly prayer meetings in my home ... desktop publishing and secretarial assistance, etc. And, now, He has given me this web site as a ministry. I don't know what He will have me to do next but, whatever it is, I know that I will say, "Yes, Lord, Yes!"

I could go on and on about a lifetime of experiences but my most important experience ever was accepting Jesus into my heart. I have lived in His presence every day since I invited Him into my heart. No matter what kind of problems I have gone through, He has never forsaken me. And, He never will. Praise His Holy Name!
All because of God's amazing grace!


Rose's Web Pages
Inspirational pages
Dedication
In memory of my brother
Friendship
Especially for my friends
Inspiration
The most beautiful flower
Compassion
In memory of Mother Teresa
Prayer
Ice cream for the soul
Salvation
Steps to peace with God
The Touch Of The Master's Hand
Beautiful poetry and music
in memory of my father
When Tomorrow Starts Without Me
In memory of my granddaughter
Old and New Testaments
In chronological order
Understanding ALS
"Lou Gehrig's Disease"
Angel
My Russian Blue angel
Tiger and Samson
My Orange Tabby kitties
Banners
Please visit these wonderful web sites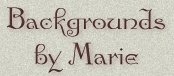 <!- End Contents ->