The image above is the Tiger Survivors logo,
created by the group's founder,
Wilbert R. (Shorty) Estabrook
B Company, 19th Infantry Regiment, 24th Infantry Division


"My Friend"
By
Shorty Estabrook
B/19/24
I lost my friend along the way
To this place that I call now.
I didn't want to lose my friend,
But I did and don't know how.
I remember how he looked at me
As I laid him down to rest,
When he said, "I can't go on, old pal;
You've seen my very best."
"So, leave me now and go your way
And when your journey ends,
Remember me beside this road,
Your buddy and your friend."
* * *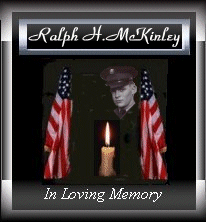 In Memory of Ralph
This poem was written by my friend
Julia Marie Girard
Born June 19, 1932
Died July 29, 2001
Jules Patriotic Pages
The beautiful graphic above was created by
her son, Ray Girard. Thanks ever so much
to both of you for these precious gifts.
You joined the Army when only a boy.
We cried when you left; there was no joy.
There was a war going on in a far off land.
It was Korea, a country far from grand.
Rugged mountains and frigid cold,
Not to mention the enemy, cruel and bold.
They sent you there and you became a man,
Because of war and taking a stand.
A stand for the freedom that all deserve,
But the enemy threw our warriors a curve.
Bloody battles were fought but all in vain,
For they overcame our troops with disdain.
From your outfit, 850 were captured and the cruelty began.
A forced Death March ... savage beatings on every hand.
Only 164 remain today to recall the torture they gave.
And, you, dear brother, they starved you to your grave.
Not a moment goes by that you're not on our mind.
You'll always be remembered ... you were one of a kind.
You're in a far better place now and we pray to our Lord
That you have eternal peace ... without a battle sword.
We shall meet in heaven, Ralph, my brother.
Until then, your memory is like no other.
Our love for you will never die.
But, please don't feel bad when we often cry.
* * *


The Forgotten War
By Lieutenant Colonel Ralph "Eli" Culbertson
L/21/24, Camps 2 and 7
The cold, bleak hills of Korea
Are far away from the USA
Where we fought the fight for freedom
And the right for human liberty.
And, as POWs in captivity, we saw
The worst of inhumane treatment
That man can give to man.
It happened in the Bean Camp, Pak's Palace,
The Mining Camp, Death Valley,
In the Cornfield, and on the Death March.
It consisted of beatings, murders, and starvation,
Brainwashing, mock trials, and isolation,
Kneeling bare-chested in the snow.
Standing with arms held high
While the Bull or the Whip beat you over the head
With corn cobs, sticks or rifle butts.
And all were allowed since each guard was
His own judge, jury, and executioner.
And this was done in the name of
Stalin and IL-Sung Kim.
Whether the "Tiger" led it
Or by "Dirty Pictures Wong,"
It is still remembered in my mind
As a long ... dark ... dreary passage of time
Which many of us could not endure.
It was really not "give-up-it-is."
The flesh was weak and the mind unable to cope.
But why did some of us die
And others live?
I know not why.
Sometimes I've said, simply, that
"I would not let the bastards kill me."
And, yet, there is more to it than that.
As Father Coyos reminded me at my daily prayer,
"Please God, increase the value of this food."
It brings to mind what our captors used to say,
"Well, if you believe in God, then let him feed you."
So, I suppose in many cases, such as mine,
He did.
But how can we live today
Without remembering the past?
We cannot.
And, most importantly, we must remember
Our buddies who did not make it.
Thornton, Jester, Anderson, Cox, McKinley,
And the Roll Call goes on.
Left behind. Somewhere on the cold
Korean hillside or beside the road.
Let's bring them home.
If not their remains, at least their Roll Call,
Enshrined forever in appropriate memorial,
As at the Punchbowl:
TO THAT FORGOTTEN WAR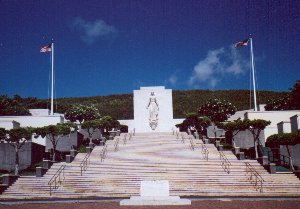 PUNCHBOWL
National Cemetery of the Pacific




Memorial Day