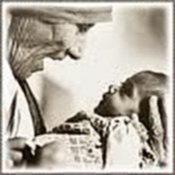 Mother Teresa
1910 - 1997
The Quintessence Of Compassion








Jesus Loves Me Medley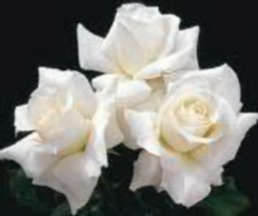 A Story of True Compassion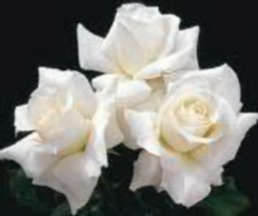 I am a mother of three children, ages 14, 12, and 3, and have recently completed my college degree. The last class I took was Sociology and the teacher was absolutely inspiring with the qualities I wish every human being had. Her last project of the term was called "Smile." The class was asked to go out and smile at three people and document their reaction. I'm a very friendly person and always smile at everyone and say hello, so I thought this assignment would be a piece of cake.

One crisp March morning, soon after we were assigned the project, my husband, youngest son, and I went to McDonald's Restaurant for breakfast. It was our way of sharing special play time with our son. While we were standing in line waiting to be served, all of a sudden everyone around us began to back away, including my husband. But, I didn't move an inch. An overwhelming feeling of panic welled up inside me as I turned to see why they had moved. As I turned around, I smelled a horrible "dirty body" smell ... and standing there behind me were two poor homeless men.

As I looked down at the short gentleman close to me, he was smiling and his beautiful sky-blue eyes were full of God's light as he searched for acceptance. He said "good day" as he counted the few coins he had been clutching. The second man fumbled with his hands as he stood behind his friend. Then, I realized he was mentally deficient and the blue-eyed gentleman was his salvation.

I held back tears as I stood there with them. The young lady at the counter asked him what they wanted and he said, "Coffee is all, Miss" because that was all they could afford. To sit in the restaurant and warm up, they had to buy something and they just wanted to be warm.

Then, I felt a compulsion so great that I almost reached out and embraced the little man with the blue eyes. And, that's when I noticed that all eyes in the restaurant were on me, judging my every action.

I smiled and asked the young lady behind the counter to give me two more breakfast meals on a separate tray. Then, I walked around the corner to the table where the men were resting. After putting the tray on the table, I laid my hand on the blue-eyed gentleman's cold hand. And, with tears in his eyes, he looked up at me and said, "Thank you." Then, I leaned over, patted his hand and said, "I did not do this for you. God is here working through me to give you hope."

I started to cry as I walked away to join my husband and son. When I sat down, my husband smiled at me and said, "That's why God gave you to me honey ... to give me hope." We held hands for a moment and, at that time, we knew that it was only because of God's grace that we were able to give. That experience showed me the pure light of God's sweet love.

I returned to college on the last evening of class with this story in hand. I turned in my project and when the instructor read it, she looked up at me and said, "May I share this?" Slowly, I nodded as she got the attention of the class.

When she began to read, that's when I knew that we, as human beings and part of God, share the need to heal. In my own way, I had touched the people at McDonald's, my husband, son, instructor, and every soul that shared the classroom on the last night I spent as a college student.

I graduated with one of the most important lessons I would ever learn: unconditional acceptance. We are here to learn. Much love and compassion is sent to each and every person who reads this.
Learn to love people and use things ... not love things and use people.

~ Author Unknown~

Contributed by my friend
LARRY ZELLERS




---

The Consequence of Indifference
A story is told about a soldier who was finally coming home after having fought in Vietnam. He called his parents from San Francisco. "Mom and Dad, I'm coming home, but I have a favor to ask. I have a friend I'd like to bring home with me." "Sure," they replied, "we'd love to meet him."

"There's something you should know," the son continued. "He was hurt pretty badly in the fighting. He stepped on a land mine and lost an arm and a leg. I want him to come live with us; he has nowhere else to go."

"I'm sorry to hear that, son. Maybe we can help him find somewhere to live."

"No, Mom and Dad, I want him to live with us."

"Son," said the father, "you don't know what you're asking. Someone with such a handicap would be a terrible burden on us. We have our own lives to live, and we can't let something like this interfere with our lives. I think you should just come home and forget about this guy. He'll find a way to live on his own."

At that point, the son hung up the phone. The parents heard nothing more from him. A few days later, however, they received a call from the San Francisco police. They were told that their son had died after falling from a building. The police believed it was suicide.

The grief-stricken parents flew to San Francisco and were taken to the City Morgue to identify the body of their son. They recognized him but, to their horror, they also discovered something they didn't know. Their son had only one arm and one leg.

The parents in this story are like many of us. We find it easy to love those who are good-looking or fun to have around, but we don't like people who inconvenience us or make us feel uncomfortable. We would rather stay away from people who aren't as healthy, beautiful, or smart as we are. Thankfully, there's Someone who won't treat us that way ... Someone who loves us with an unconditional love that welcomes us into the Forever Family, regardless of how messed up we are.

Tonight, before you tuck yourself in for the night, say a little prayer that God will give you the strength you need to accept people as they are and to help us all be more understanding of those who are different from us.
~ Author Unknown ~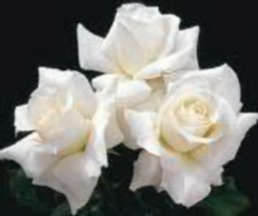 ---
Catalogs for David
This message is about a "man child" named David Freeland who is physically and mentally handicapped. David is 40 years old. He was injured at birth and never developed past the age of four or five. His dear mother has kept him at home all these years and has faithfully loved and cared for him.

One of David's few pleasures in life is leafing through catalogs and tearing the pages out one by one. You can imagine how many catalogs he can go through. Friends and neighbors save catalogs for him but the supply doesn't last long. It would be wonderful for him to have enough catalogs that he could have one whenever he wants it. Believe it or not, the catalogs are hard to come by and appeals to the big catalog companies have been unsuccessful.

If this story touches your heart as much as it has mine, I hope you will respond by sending David any old catalogs you may have lying around. He prefers the large ones such as JCPenney but any size catalog would be great. Please take the time and effort to do this for David. His address is:

David Freeland
HC-77, Box 105
Spencer, WV 25276
USA

There is a special U.S. postal rate which will make it much cheaper to mail them. It is called "Bound Printed Matter" and the rate is between $3.00 and $7.09, depending on where it is mailed from. The package must weigh a minimum of one pound and a maximum of 15 pounds and should be marked "Bound Printed Matter." It cannot contain any written communication ... only catalogs. Three or four times, I have mailed David 15-pound packages and will continue to think of him every time I have appropriate catalogs. I hope you will, too.

If you will also send this message to your family and friends, it won't be long until David will have a big smile on his face every day ... all because someone cared enough to do this simple act of love.


Click Here
---
HELP FIND A MISSING CHILD
Call 1-800-THE-LOST (1-800-843-5678)
if you've seen one of these children.
Children Missing From South Carolina
---

This web site will touch your


Please take time to send a card to these precious kids.
---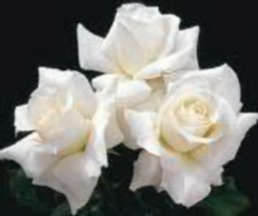 And so, as those who have been chosen of God, holy and beloved, put on a heart of compassion, kindness,
humility, gentleness and patience; bearing with one another, and forgiving each other, whoever
has a complaint against anyone; just as the Lord forgave you, so also should you. And
let the peace of Christ rule in your hearts, to which indeed
you were called in one body; and be thankful.

~ Colossians 3:12 (NASV) ~
---
In memory of the lost,
In honor of the families and wounded.
Columbine High School
Littleton, Colorado
April 20, 1999
---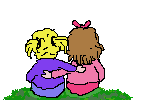 Please listen to this heartrending message in song by The Steeles:

For The Sake Of The Children
Download free RealOne Player here



---
God Is What We Need!
Your laws ignore our deepest needs,
Your words are empty air,
You've stripped away our heritage,
You've outlawed simple prayer.
Now gunshots fill our classrooms
And precious children die.
You seek for answers everywhere
And ask the question "Why?"
You regulate restrictive laws
Through legislative creed.
And yet you fail to understand
That God is what we need!
Written by Darrell Scott, father of Eric and Dylan,
two victims of Columbine High School shooting.
Presented with his testimony before the Sub-
committee on Crime, House Judiciary Committee,
United States House of Representatives,
Thursday, May 27, 1999, 2:00 p.m.,
2141 Rayburn House Office Building.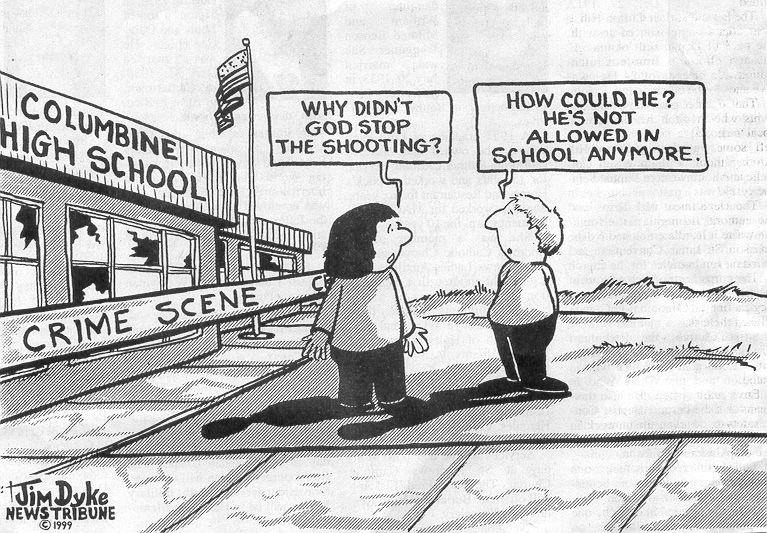 The New School Prayer

Now I sit me down in school
Where praying is against the rule.
For this great nation under God
Finds mention of Him very odd.

If Scripture now the class recites,
It violates the Bill of Rights.
And any time my head I bow
Becomes a Federal matter now.

Our hair can be purple, orange or green,
That's no offense; it's the freedom scene.
The law is specific, the law is precise.
Prayers spoken aloud are a serious vice.

For praying in a public hall
Might offend someone with no faith at all.
In silence alone, we must meditate;
God's name is prohibited by the State.

We're allowed to cuss and dress like freaks,
And pierce our noses, tongues, and cheeks.
They've outlawed guns but FIRST the Bible.
To quote the Good Book makes me liable.

We can elect a pregnant Senior Queen,
And the unwed daddy, our Senior King.
It's "inappropriate" to teach right from wrong,
We're taught that such "judgments" do not belong.

We can get our condoms and birth controls,
Study witchcraft, vampires, and totem poles.
But the Ten Commandments are not allowed;
No Word of God must reach this crowd.

It's scary here, I must confess.
When chaos reigns, the school's a mess.
So, Lord, this silent plea I make:
Should I be shot, my soul, please take.

This poem was written by Mark Taylor, a Columbine
survivor who was one of the first students shot.




---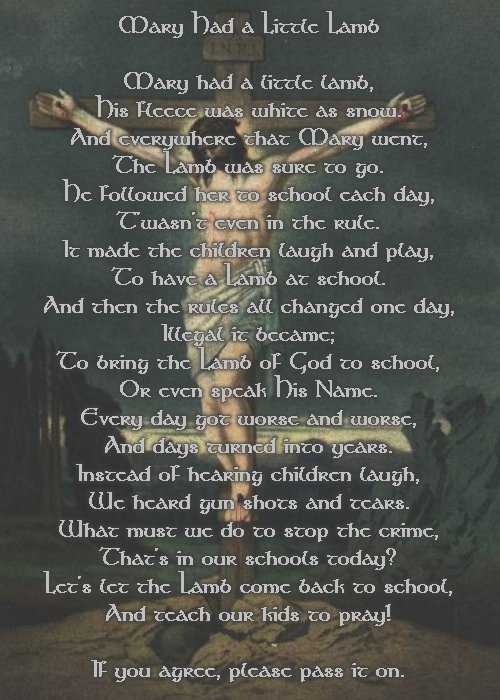 ---

---
---
Site Navigation
Rose's Web Pages
Inspirational pages
Dedication
In memory of my brother
Friendship
Especially for my friends
Inspiration
The most beautiful flower
Prayer
Ice cream for the soul
Salvation
Steps to peace with God
In His Service
My personal testimony
The Touch Of The Master's Hand
Beautiful poetry and music
in memory of my father
When Tomorrow Starts Without Me
In memory of my granddaughter
Old and New Testaments
In chronological order
Understanding ALS
"Lou Gehrig's Disease"
Angel
My Russian Blue angel
Tiger and Samson
My Orange Tabby kitties
Banners
Please visit these wonderful web sites



Webmaster